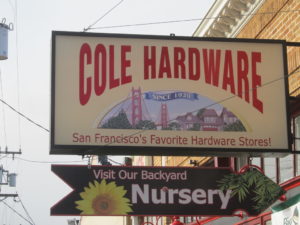 Hardware shops are very crucial in a city. This shops contain things like power tools, hammers, buzz saws, screwdrivers and doodads. Hers a list of some useful hardwares in San Francisco.
Cole hardware.
It is on the north beach.it was opened in the previously piazza market space in 627 over a couple years ago.it is among the most iconic businesses in the north Beach and its currently trying to fill the gap that Figoni hardware that was located on Grant avenue which closed down years ago. Apart from the stunning façade of Cole hardware you are going to find every kind of tool that you are looking for including paint, nails brushes and so much more. Cole hardware is also a UPS point where you can go buy your clipper card.
Fredericksen hardware and paint.
This hardware in San Francisco has been serving the neighborhood ever since 1906.its widely known for its top notch services as well as the staff who never disappoint. The unique thing about Fredericksen hardware is it has an adorable cat named Pepper who lives at the store.
Ace hardware.
This is a very ideal spot whenever you want to grab some home items during your lunch breaks. Ace hardware is located in the heart of San Francisco's financial District.it is not very big in size but still the staff at Ace hardware are very helpful. Its bonus point is the store does not have the specific item that you are looking for an employee is going to help you find it in another store.
Standard 5& 10.
It is aver large laurel village store that comes with kitchen goods. The Stan's kitchen features very classy kitchen items that are not sold at any other store in the neighborhood after home chef left the neighborhood for over a decade now. Consider standard 5&10 because it has everything that you are looking for in a hardware .it is also known for selling big green eggs.
Cliff's Variety.
This hardware is both an icon and a legend among hardwares.it is located in Castro. Cliff's Variety is usually full of LGBTQ people who are friendly and the staff in this hardware are more than willing to help you. While visiting Cliffs Variety, expect the unexpected, you'll find everything that will make your home beautiful. Apart from the usual home staff, they also sell feather boas, wigs, makeup and a variety of many other things.  Don't forget to check the best 10 hardware stores in San Francisco City, California if you are going on shopping.